Handicap Accessible Portable Restrooms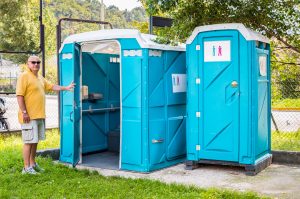 Handicap Accessible Portable Restrooms
Handicap accessible portable restrooms are larger than the standard portable toilet and porta potty offerings we have in order to make room for wheel chairs, walkers, or just to provide some extra space to individuals who need a little more room to maneuver.
Our handicap toilet is something we recommend accompany any large event or rental of multiple portable toilets. It's important to make sure there are faculties present that everyone can use.
Big Porta Pottys & Large Portable Toilets for Rent
Our handicap accessible portable toilets and porta potties are king-sized portable restrooms that provide plenty of space to use. They can also be used to provide a family restroom for families with small children who need help using the facilities.
Are you looking to rent a single unit for your event? Depending on the expected users, you might want to consider renting a single handicap accessible portable restroom just to make sure everyone can comfortable use the facilities, whether there's a health issue affecting mobility or if there will be families with small children present who will need help in the bathroom.
Family Sized Port-O-Potty
If we can assist you in lining up your next portable toilet rental for you event, please give us a call today at 636-278-9907
We would be happy to assist you with the best portable toilet rental service available in O'Fallon, Wentzville, St. Charles, St. Peters, and the surrounding areas in Missouri. Thank you for your business!